Our members' safety is our first priority. While we are unable to gather in person, your support has empowered our organization to reach out to those in need.
Non-Profit Status
Early this year, One La Salle Alumni of So Cal completed all the requirements and was granted 501(c)(3) status. We are now a non-profit organization, which means that our donors can now write off their contributions.
More donors mean more opportunities to make a difference. One La Salle Alumni of So Cal is actively engaged in giving back in 2020.
Outreach Missions
Members of our organization volunteered to feed the homeless at St. John Vianney last January 31
To help the victims of the Taal Volcano eruption, we donated $1000 through Brother Mawel
To support the homeless that are being housed in De La Salle Manila, our Bente Bente Para sa Berde campaign raised $500 for AJ Kalinga Foundation
In a joint project with Don Bosco Makati Batch '80, Philippine Coast Guard Auxiliary (102nd Battalion), Blessings from Heaven, and various other donors; PPE and food donations for Frontliners in the Philippines have raised a total of $5800 to date.
To help provide food and shelter in seven La Salle campuses via the Kada-Uno Lasalyano, we donated $500 through Brother Armin Luistro.
Alumni Resources
We will continue to post open positions/jobs on our Facebook page courtesy of Mr. John Mina and Mr. Ron Mayuyu
We appreciate you and hope to see you soon. Stay safe and healthy!
Dec
5
Sat
2015 Annual Christmas Party

@ La Salle High School
Dec 5 @ 4:00 pm – 10:00 pm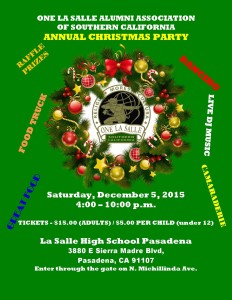 We would like to organize the best Christmas party for our fellow alumni, but we need your help!
We would like to ask our alumni for volunteers to:
1. Sponsor our food costs or bring food
2. Contribute raffle & game prizes
3. Host a game or two
4. Be a part of the decorating committee
5. Be an event photographer
6. Be an event videographer
7. Make a video for presenting at the party
8. Perform a song or lead the line dancing
9. Bring a gift. White elephant gift exchange, anyone?
10. Sponsor supplies like plates, spoons, forks, knives, ice, table linens, etc.
If you have party ideas for activities or other suggestions, please feel free to leave a comment below.
You need to register to comment, you may use your facebook, twitter or instagram account to register. Just click on the icon & follow the instructions.
Thank you very much in advance! We look forward to celebrating this holiday season with you.
Apr
1
Fri
Golf Tournament

@ San Dimas Canyon Golf Course
Apr 1 @ 1:00 pm – 6:00 pm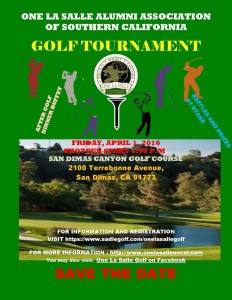 The One La Salle Golf tournament is open to all La Salle Alumni and friends. It will be held on April 1, 2016 at the San Dimas Canyon Golf Course (see map) Shotgun start will commence at 1:00 p.m. and dinner and awards will begin right after the tournament.
Other organizers you may contact for this event:
Ron Mayuyu – U4ia26@hotmail.com (818) 648-7422
Ramon Manalo – ramonmanalo@msn.com (323) 633-4497
Felix De Leon – felix.deleon@yahoo.com (949) 413-7453
Jul
16
Sat
Councilors Meeting

@ DJ's Bibingkahan
Jul 16 @ 6:00 pm – 7:00 pm
Summary
We need to finalize our participation at the UAAP-NCAA Friendship Games.  We also need to talk about the activities for the rest of the year.
Agenda
UAAP-NCAA Friendship Games update from Coocoo & Erick
Camping proposal from Jun
Financial report from Vickie
Scheduling of other events like the Annual Christmas Party
Other issues and proposals