Our members' safety is our first priority. While we are unable to gather in person, your support has empowered our organization to reach out to those in need.
Non-Profit Status
Early this year, One La Salle Alumni of So Cal completed all the requirements and was granted 501(c)(3) status. We are now a non-profit organization, which means that our donors can now write off their contributions.
More donors mean more opportunities to make a difference. One La Salle Alumni of So Cal is actively engaged in giving back in 2020.
Outreach Missions
Members of our organization volunteered to feed the homeless at St. John Vianney last January 31
To help the victims of the Taal Volcano eruption, we donated $1000 through Brother Mawel
To support the homeless that are being housed in De La Salle Manila, our Bente Bente Para sa Berde campaign raised $500 for AJ Kalinga Foundation
In a joint project with Don Bosco Makati Batch '80, Philippine Coast Guard Auxiliary (102nd Battalion), Blessings from Heaven, and various other donors; PPE and food donations for Frontliners in the Philippines have raised a total of $5800 to date.
To help provide food and shelter in seven La Salle campuses via the Kada-Uno Lasalyano, we donated $500 through Brother Armin Luistro.
Alumni Resources
We will continue to post open positions/jobs on our Facebook page courtesy of Mr. John Mina and Mr. Ron Mayuyu
We appreciate you and hope to see you soon. Stay safe and healthy!
Jan
31
Fri
2020 Feeding the Homeless Project

@ St John Vianney Church
Jan 31 @ 6:30 pm – 9:30 pm
We would like to invite to our One La Salle family to join us in giving back to our community.  We have signed up to spearhead the homeless feeding project on January 31 at St. John Vianney Church.
We need more volunteers for the following tasks:
Serve dinner to guests at approximately 7:00 p.m. Food and supplies will be provided, 20-25 alumni volunteers are needed.
Prepare 180 packed lunches consisting of turkey/ham sandwiches, chips, fruit cups, small bottled water and napkins.  Tessa Encarnacion-Andrada will put together the items in the brown bags except for the sandwiches.  We need 6-8 alumni volunteers to prepare the sandwiches while dinner is being served.
Money donations needed to buy the following:
Socks
Underwear: Women's sizes 6-8, Men's sizes M – XXL
Jackets – new or gently used, sizes M – XXL
You may also contact Erick Cordero (626) 975-6353 to sign up for this event.
Mar
23
Mon
2020 Medical Mission Philippines

@ Bgy Sun Valley, Paranaque Philippines
One La Salle Alumni of SoCal in cooperation with Global Health Force is going on a medical mission to Bgy Sun Valley in Paranaque, Philippines.
Mar
27
Fri
Manila Golfers Hub Amateur Invitational

@ Canlubang Golf & Country Club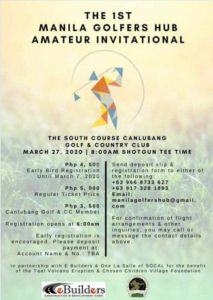 One La Salle Alumni of SoCal is inviting everyone to support the 1st Manila Golfers Hub Amateur Invitational for the benefit of those affected by the eruption of Taal Volcano and the Chosen Children Village Foundation.
The event will be held on March 27, 2020 at the South Course of Canlubang Golf and Country Club.  Shotgun tee time will be at 8:00 am.